This is my AAR (After Action Review) for the GORUCK THANKSGIVING Light Challenge in Phoenix, Arizona. This was my experience during my FIRST (of many to come) GORUCK Challenges.
Have you been considering signing up for a GORUCK challenge? I had, for several months actually. If you're like me, you're probably wondering if you could actually do complete it? well, I did!
GRT? If so, skip to the good stuff…
If you don't know what a GRT is you should probably read this part!
GORUCK is a gear and apparel company started by an Army Special Forces Green Beret. They also do endurance events around the world to challenge your mental and physical abilities should you choose to accept the challenge.
The events are categorized: Challenges, Star Course, Firearms Training, Scavenger, Selection, and Survival. Find out more about each type of event by clicking the links (opens in new window).
So what is a GRT?
GRT stands for GORUCK Tough and A GRT is someone that has completed a GORUCK challenge (Light, Tough, or Heavy event).
I chose a Light event as my initiation into the GRT family; and that is what it is, a family of people challenging themselves and helping each other! So here is my AAR for my very first GORUCK event…
Distance: 8.7 miles
Time: 4.5 hours
Pack Weight: <30#
Team Weight: >25# sandbag & Fire hose
Service Action: Each of us brought 2 canned goods to donate to a local food bank to help restock after Thanksgiving.
It's Thursday, 22 November – Thanksgiving Day – and my son and I are in the garage. He was helping me build a flagpole to carry in my first GORUCK Light Challenge. If you want to see how I constructed it, look here. While putting it all together I somehow managed to strain my lower back. Frustrated and irritated I spent most of the rest of the day icing and resting hoping it would feel better before Saturday… Happy Thanksgiving!
It's now Saturday morning and time to put the final touches on my flagpole, gathering up the last minute items and doing a final inspection of my gear (Listed Below) before embarking on the hour long drive across the Phoenix valley to the start point.
I had a fun mix of excitement and nervousness going on, that's for sure! Have I mentioned that this is my FIRST event with GORUCK?! I got everything loaded 
Sustain
Maintain my excitement and confidence. It's all about what you believe.
  Improve
Don't injure myself two days before the event. More stretching / yoga on a daily basis.
Gloves
Electrolyte powder
Solomon shoes
Sustain
Keep pack weight down with a minimalist approach to packing.
  Improve
Get better shoes / boots for road marching with heavier weight.
GORUCK Light (Thanksgiving) started in the parking lot of Freestone Park in Gilbert, AZ at 1400. As this was my first event, I wasn't really sure what to expect.
First things first, we assembled in 3 ranks with our packs at our feet. This I was familiar with, platoon formation. Next came roll call and the cadre inspecting our packs for weight.
Our class size was in the low 30s, but we had like 5 or 6 people that didn't show up for the event.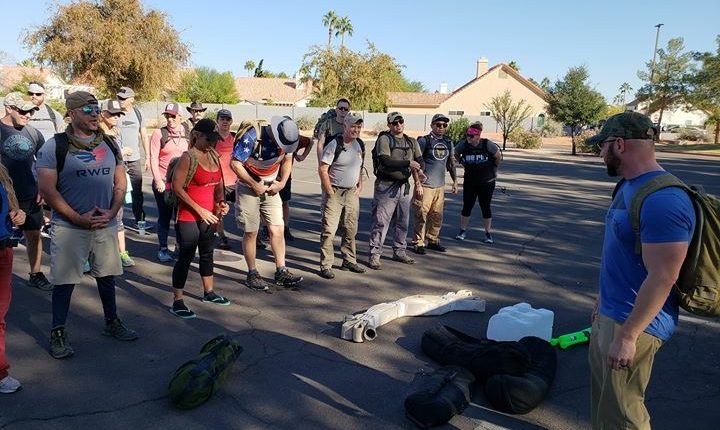 After the leaders were picked, cadre picked a class leader and they picked three team leaders, we geared up and Cadre "Handsome" Mike lead us over to an opening in the park and welcomed us to GORUCK with some PT! His philosophy, which I like, was that if you were going to drop out, do it now… We did have one person go down, dehydration I think. The cadre and a couple of medical professionals from the class cared for him while we waited to start marching.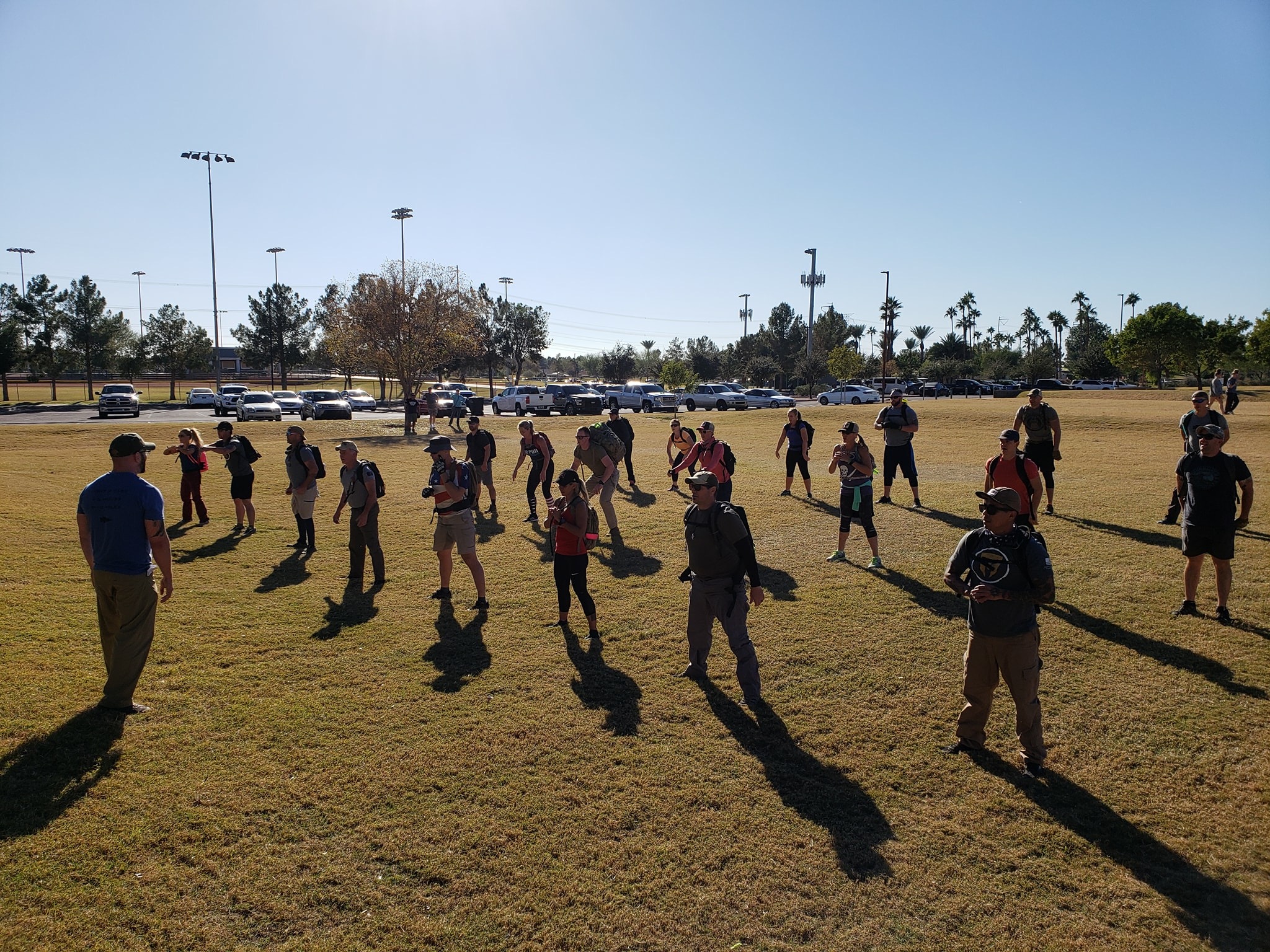 So one of my (several) concerns was how my disabilities would impact the PT. Cadre "Handsome" Mike was awesome in working with me during the PT sessions and giving me alternative exercises to complete. If you don't know my story, Read This. 
The flag leads the way… and does NOT touch the ground. We were warned early that if the flag hits the ground our Light Challenge would turn into a heavy! (it didn't touch the ground!)
So in addition to the flag and team weight we had to supply, we were given a few other objects to carry, like a couple 100# sandbags, a few smaller sandbags, and additional water.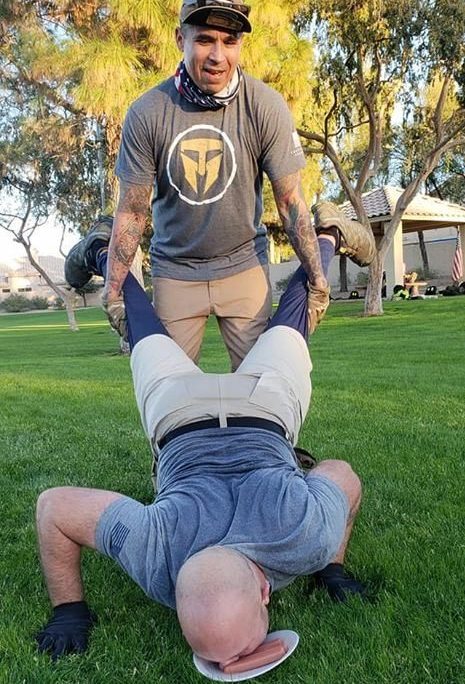 I did mention this was a Thanksgiving-themed event right? Cadre "Handsome" Mike had some appropriate PT planned for us to gather our feasts along the way. For example, gathering the turkey for our main course! (photo left)
So we had to gather our main course, wheelbarrow fashion. As teams, we had to get our turkey and bring it back to our table. So what's the motivation to win? less PT to work off that meal… LOL!
This wheelbarrow race ended with our team the victor, so we only had to do 30 push-ups… I'm glad we won!
After getting our meals back to our "tables" we geared up and headed out. Almost 5 hours and 8.7 miles after getting started we arrived back at the park where we started… just in time for "desert". Dessert was another team game of "dizzy bat". Once again, our team (1st squad) won, which meant less PT. After 'paying' for our dessert, we formed up and cadre Mike motivated us and then patched us.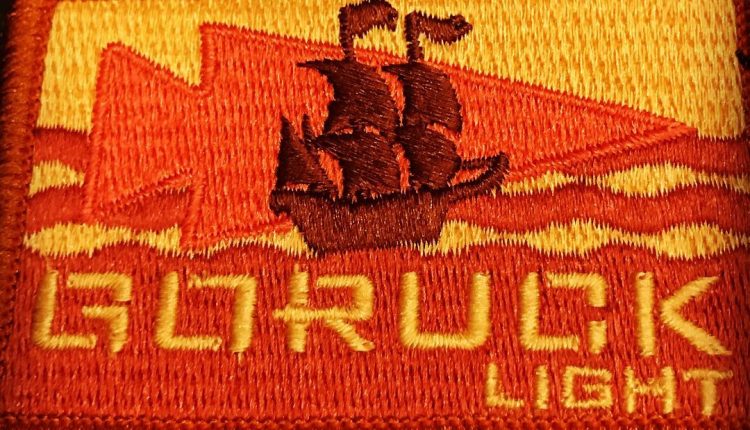 Improve
My overall fitness level. Ruck longer and heavier.
Our cadre started off by telling us that Light ≠ Easy… That is the truth! But then again, what worth having comes easy?
It's purely a mindset. If you start off thinking you will fail, you probably will…  but it's also true that if you think you can, you probably will!
The class leader did an amazing job keeping us all together by stopping movement if there was a problem or a weight dropped during transfer. Staying tight is important!
Team leaders did a good job making sure the team weights were transferred regularly. 100# sandbags get heavy!
Cadre "Handsome" Mike was awesome to work with, don't be afraid to talk to them. I'm looking forward to seeing him again in San Diego for the D-Day Heavy in June.
Overall, I had a wonderful time "Embracing the Suck" and challenging myself. I was concerned about my limitations going in, but after the fact am extremely glad I pulled the trigger on registering for this event!
Upcoming GORUCK Events You Can Find Me At
Here are a few upcoming GORUCK events you can find me at. Send me a DM If you want to join me!